Hello girls!
Today's post was supposed to look a bit different: I wanted to tell you about a newly discovered favorites (I gathered quite a few of them, both skin care and hair care cosmetics as well as makeup, however, there is one in particular, that is special and I my opinion, it deserves a separate entry especially since many of you asked me about Nanoil hair oil (yes, it's the main character of today's post). I've been using it for almost two months so there's a lot to talk about. Sit back and relax, below you'll see all of the Nanoil's secrets revealed.
Before we begin, let's gossip a little! Here is a handful of facts about Nanoil Hair Oil:
NANOIL FACT #1 – there are three oils, each of which is designed for a different type of porosity. It is actually obvious that various hair types, for instance, thick hair that lacks volume, requires a different type of care than dry and damaged ones…it seems obvious yet nobody has mentioned before. Only Nanoil has a 'team' of products and each of which is intended for is a different porosity of hair (my hair is low porosity, which was confirmed by the hair porosity test online – very nice, short and on point). It is available on the official webpage, here:
https://nanoil.co.uk/hair-porosity-test
NANOIL FACT #2 – don't think that you're just buying a random blend of oils and that's it. They are carefully selected and properly matched to give your hair the best of them. This oil mixture has been enriched with components that are a great support for hair. What type of precious substances are in it?  Summing up all 3 versions, we will find there, among others: keratin, lanolin, panthenol, liquid silk. This only means one thing: someone knows a lot about hair and takes its needs into account.In my version of Nanoil, there are vitamins, beneficial UV filter, panthenol and high-class ingredients boosting hair growth, strengthening the bulbs, inhibiting hair loss.
NANOIL FACT #3 – it's one of the very few oils available on the cosmetic market that is suitable for the use on the scalp. It is completely safe and free of silicones, parabens, and works as an oil mask that works on all three, very important parts of the hair:
the hair shaft
the hair bulb 
the hair inner structures 
Additionally, it cleanses and conditions the scalp which of course is no less important – everyone who – just like me – often struggles with excessive seborrhea knows that they must take care of the scalp seriously.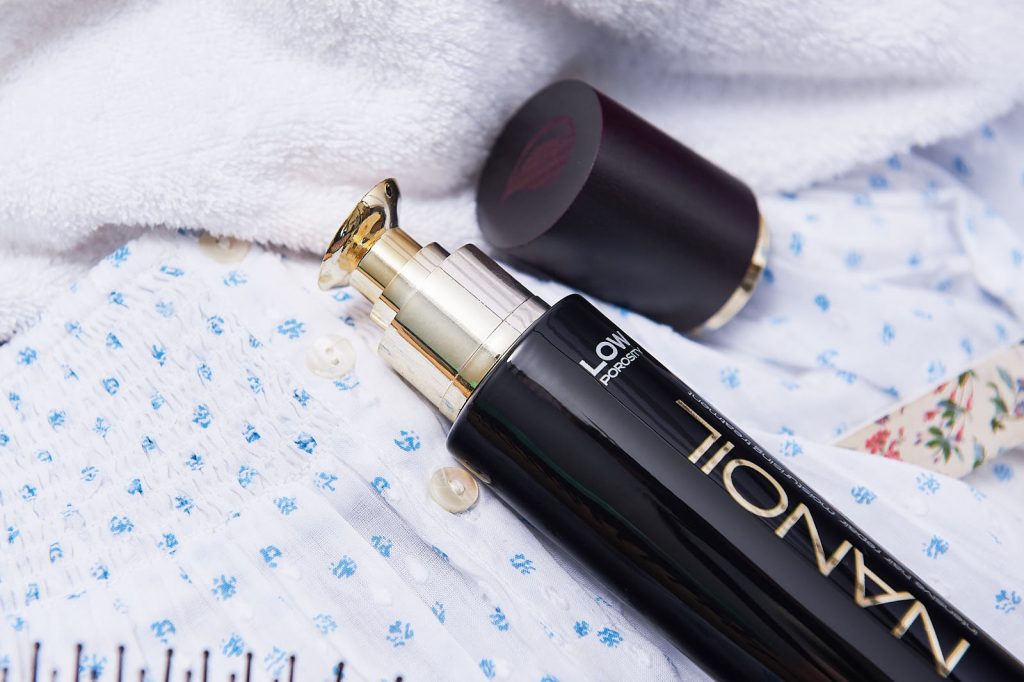 Nanoil hair oil – how to use it? The way I use it – description
Nanoil can basically be used in several ways – just like any oil used for hair oiling. Those of you who have ever applied oils to their hair will know what's it all about.
However, if your hair is quite greasy, heavy and lacks volume, the best method is the so-called W O W, that is:
Wash + Oil + Wash 
It's really very simple. I apply it to wet, washed hair – well, heavy hair accumulates dirt and sebum more quickly, I prefer to get rid of it in the first place. I apply Nanoil to moist strands – of course, not some extreme amount … 3-4 pumps are enough for me. I rub it not only in the whole hair but also in the scalp. Then, I wrap everything in a towel and let it warm up 🙂 After 30 minutes, I wash, dry, style, and preferably: I allow it to air-dry.
Low porosity hair – will Nanoil be able to nourish it? [effects]
In general, low porosity hair does not like to have anything left in it without washing and rinsing: in this case, the lightness counts. I could say that my hair is constantly striving to be fit. What I need to "feed" it, is a light yet nutritious blend. This is Nanoil for low porosity hair: oils with low molecular fatty acid content do not burden the strands, they focus on nutrition and make the hair light and shiny. The UV filter is an additional advantage, I have the impression that everyone has forgotten about it recently, especially when it comes to hair care. In the meantime, the hair is the most exposed to the sun radiation. UV protection is the foundation of any care – body, face and hair. I am glad that I have found a product that not only affects the hair shaft but also brings benefits to the bulbs and scalp. If your scalp is accompanied by seborrhea, thorough cleansing is the basis 🙂
Nanoil hair oil – effects after one week of regular use
I wrote "one week", but actually its effects are visible after the first application – the hair becomes soft, gains lightness and shine.
Nanoil hair oil – the effects after a month of regular use 
My hair is very clean and actually, I do not have to wash it every day, as I used to. The hair has become soft and is nicely lifted at the base. I love how it looks and its incredible shine.
Nanoil hair oil – effects after two months of regular use 
I noticed the small hairs that appeared along the hairline (I always had receding hairline). They are tiny and slightly brighter than the rest of the hair, but … they are there! I hope that every month they will grow thicker and healthier. All hair has generally gained a nice shine, is silky soft and very pleasant to the touch. It smoothly slips between my fingers, it is lightweight and it does not become oily so anymore because the scalp is regularly cleansed by Nanoil. I do not know if the oil inhibits hair loss – I never had any problems with it. I hope that there will be girls who also used it and can share their opinions in the comment section:)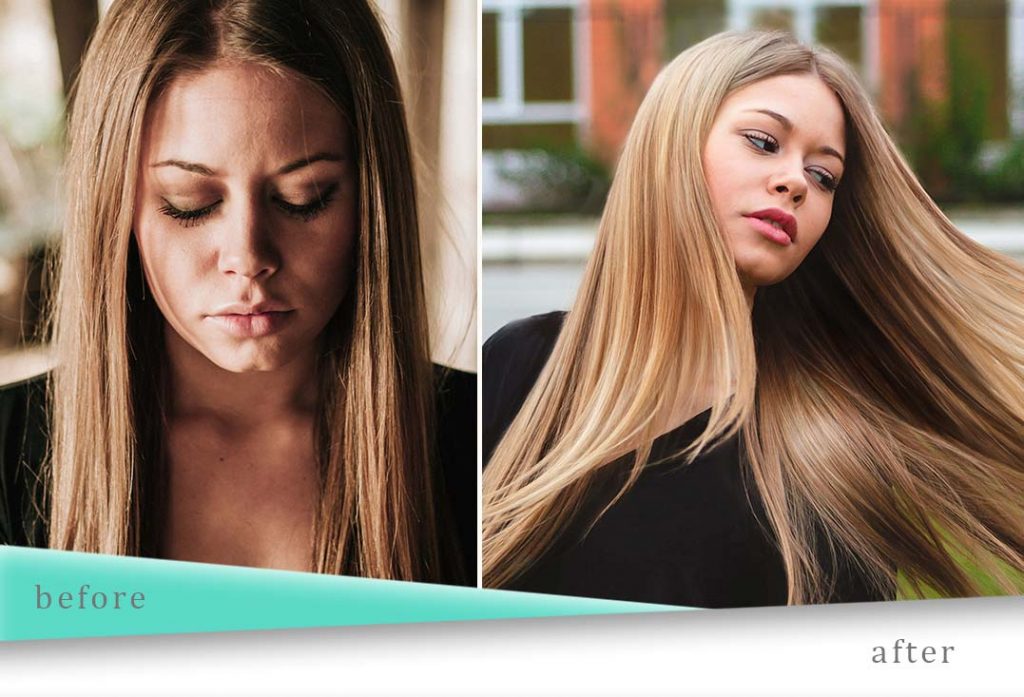 Nanoil for low porosity hair – composition 
I'll leave it here because I know you like it;)
It's great that readers who visit my blog are aware of it.
Therefore, for those who can read labels and understand them:
Nanoil – low porosity 
Pinus Sylvestris Leaf Oil, Cocos Nucifera Oil, Argania Spinosa Kernel Oil, Ricinus Communis Seed Oil, Butyrospermum Parkii Butter, Passiflora Edulis Seed Oil, Ethylhexyl Methoxycinnamate, Tetrasodium Disuccinoyl Cystine, Propanediol, Arginine, Lactic Acid, Glycine Soya Germ Extract, Triticum Vulgare Germ Extract, Orbignya Oleifera Seed Oil, Cocos Nucifera Oil, Gardenia Tahitensis Flower Extract, Theobroma Grandiflorum Seed Butter, Panthenol, Aroma, Tocopheryl Acetate, Retinyl Palmitate, Tocopherol, Hexyl Cinnamal, Limonene, Linalool.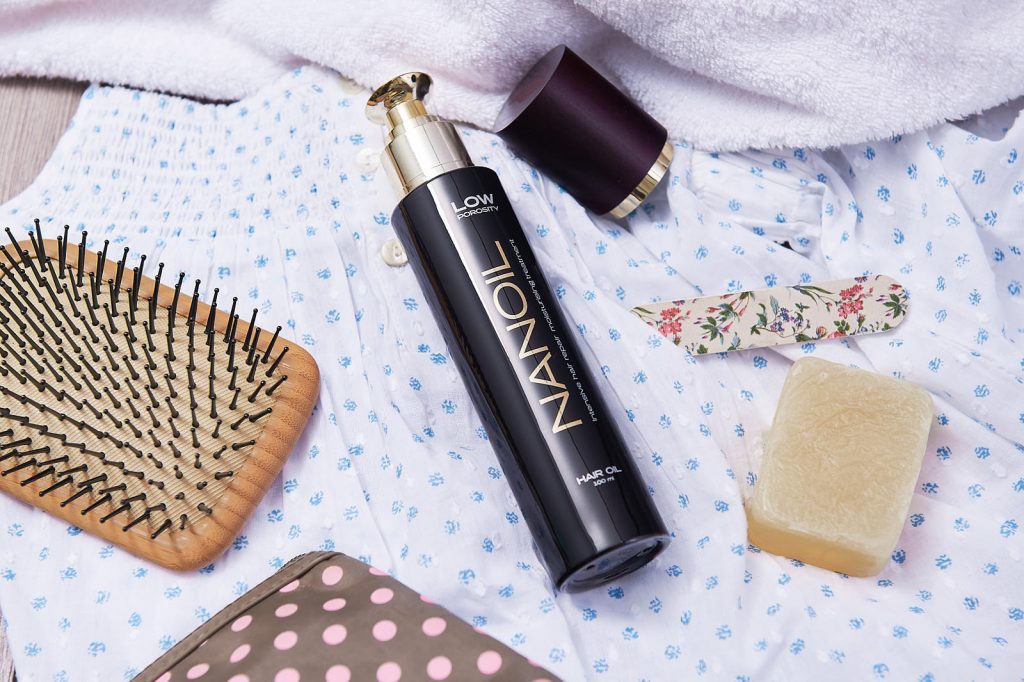 Nanoil hair oil – conditioning substances 
For you, I'll decode these Latin / INCI names:
Cedar oil, coconut oil, argan oil, castor oil, shea butter, passion fruit oil, UV filter, kerastim, soybean seed extract, wheat germ extract, babassu oil, monoi oil, cupuacu butter, panthenol, vitamin E, vitamin A
An Oscar-winning cast 🙂 I am very happy with the product and its composition because with thick and heavy hair it is really unknown what to buy and what to nourish it with. Supposedly there are shampoo, conditioners and even masks for greasy, heavy hair that lacks volume, but after a while, it turns out that the hair is, fresh, but the scalp – a total disaster… it's completely dry which is why it gets oily faster because it wants to rebuild the protective hydro-lipid layer. Nanoil perfectly supports and regulates it. It also improves the condition and appearance of the hair and I was very impressed by this feature 🙂 I truly recommend it to all low-porosity hair owners:) Let me know if you used Nanoil and of course which version was your best match. Does it work as well for your hair too? Kisses'n'hugs!
Get more information here: www.nanoil.co.uk