Here's my newest post with the results of testing the best-selling anti-redness face serums.
If you have broken capillaries, you must know the problem can only be fixed with customized products. Rosacea-prone complexion requires advanced formulations with a higher concentration of nutritional ingredients which can penetrate the skin deeply and work from within, not just on its surface.
Redness-prone, sensitive skin gets the most benefits from a good face serum.
What does 'good' mean though? This means it should be made from suited ingredients such as Buckeye Extract or Arnica Extract, vitamin K and B3. It should also be light-textured and should not weigh down or irritate the skin. And finally, it should be effective.
How to find such a serum? You can either search on your own or try one of the best anti-redness face serums that I've chosen for you.
If you keep scrolling, you'll see the redness-control serums I recommend and evaluate considering the results, texture, and skin's tolerance. I've also ran through the INCI, bottle sizes and length of the treatment. What came of it? You'll find out by reading on. I list the items from the best ones to the products that have let me down in some way or another.
Here's my round-up of the best anti-redness face serums for broken capillaries and sensitive skin!
TOP ANTI-REDNESS SERUMS
1. Nanoil Anti-Redness Face Serum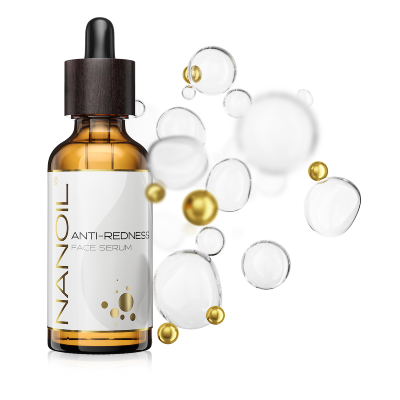 Nanoil is a serum for broken capillaries, facial redness and skin irritations that won't let you down, I'm quite sure. I got stunned by the light texture after I used the serum for the first time and my face finally stopped feeling so dry and tight. The irritations faded in a flash because the product is rich in Cypress and Linden Extract. Nanoil reduces redness on the face and strengthens capillaries to inhibit spider veins – it does that thanks to added Buckeye Extract and Vitamin B3. Boerhavia Diffusa Extract is a typical ingredient in all serums from Nanoil; it calms the skin and evens the skin tone, but also holds premature wrinkles or sagging back. Summing up, Nanoil Anti-Redness is the best serum for spider veins and flushed face I've ever used – maximally effective, lasting long, and budget-friendly.
For more information visit – www.nanoil.co.uk
2. La Roche-Posay Rosaliac AR Intense Serum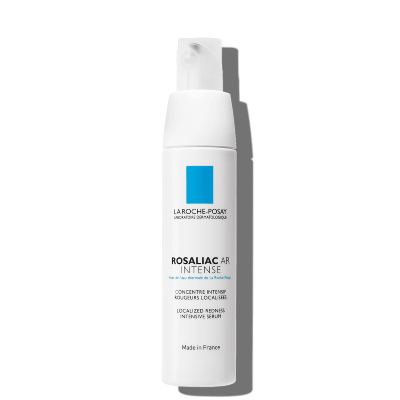 The La Roche-Posay Rosaliac AR Intense Serum takes second place. It's creamy and based on thermal water. As you probably know, thermal water is high in minerals, but it doesn't take credit for the effects you can count on. The components like Neurosensine and Ambophenol are the secret to its effectiveness – I don't know what stands behind the sophisticated names, but the manufacturer assures they reduce facial redness and keep it from recurring. Generally, it got along with my skin and I could see visible effects after a few uses, plus it sank in well. Obviously, it works best with other products from La Roche-Posay Rosaliac AR Intense, but this will surely put a strain on your budget.
3. PCA Skin Anti-Redness Serum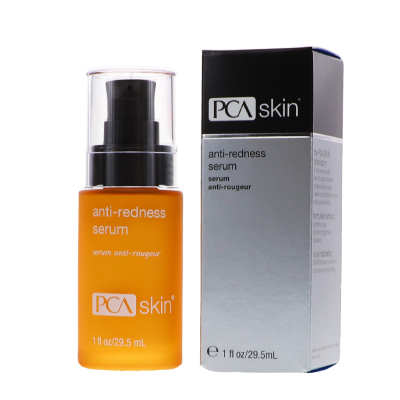 I believe the PCA serum is a must in a round-up of top anti-redness items. I really think it's one of the best products for problematic skin, but you must be aware it's costly and definitely not big! Still, it's a great combo of red and brown algae extract plus substances derived from capers, and skin-cooling bisabolol. The addition of panthenol gives relief and moisturizes the skin. The formula works great on red, irritated skin prone to spider veins. To me it's a cool anti-redness serum but the price remains a downer…
4. REN Evercalm Anti-Redness Serum
Why are all good serums for rosacea-prone skin labeled 'anti-redness'? Because redness and flushing are the top problems of this skin type, and such cosmetics work best to fade that unwanted symptom. The REN Evercalm Serum is a good example. The creamy and non-overburdening product brings relief to blushed faces. It fights off flare-ups, evens the skin tone and reduces irritations, but also increases the skin's tolerance to potential irritants from the environment. What does this mean? For example your face won't overreact to minus temperature, heat or the sunlight. The manufacturer recommends applying the serum twice a day which means you're likely to run out of it fast. The long-term use will be costly because the serum isn't budget-friendly.
Okay, so now you know my REDNESS-CONTROL TOP PICKS!
Mention the name of your must-have face serum that you use daily and recommend to anyone who seeks customized products. Maybe it'll be another treat for rosacea-prone skin.
Looking forward to your comments!